Video content is where it's at right now. Companies that incorporate a combination of animated and live-action videos have an edge over those who don't.
If you're thinking about hiring professionals to produce a live-action video for you but don't have much experience in filmmaking and video production, then you might get the wind knocked out of you when you realize how much a live-action video can cost.
You might start to imagine that production company CEOs are just pocketing all the money and rolling around in cash…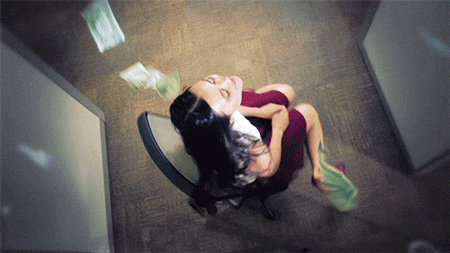 Credits: Giphy
…But that's not how it is.
It's hard to pin down the cost of a live-action video because professionalism doesn't come at a fixed price. The range of live-action video cost varies considerably if you compare elite production houses with more niche agencies.
With all these variables, you should still expect a live-action video to cost somewhere in the $5,000 to $30,000 range. For more ambitious projects, costs could go up to at least $50,000.
We'll breakdown the three main steps of the production process in this post. This will help you understand where the money goes.
Pre-production
Pre-production is all the work and planning that takes place before production actually begins.
Some of the most important pre-production steps are as follows:
Hiring talent
Professional talent doesn't come free. The number of people you'll need is going to vary from one video to the next and the cost will go up or down accordingly.
You could choose to get a few of your employees involved but they may not be able to express themselves naturally on camera the way actors can. The process of conducting auditions, callbacks, and screen tests also adds to incurred costs.
Location costs
Your idea may involve filming in a studio, outdoors or at some specific location, like an office or a school.
Perhaps you've got some exotic location in mind. These myriad of options come with their own costs.
Now, depending on what you're filming, you'll also need to spend some coin on acquiring the relevant permits.
If you don't and decide to go the route of guerrilla filmmaking, then property owners or the local government could halt production and end up suing you.
Props
This cost entirely depends on the types of props you'll need for your live-action video. If you require cell-phones or laptops, you could probably grab those gadgets from your own office.
If your props are more elaborate and specific, then you'll need to acquire them and the costs will add up.
Wardrobe
If you want to portray the Victorian era, then your actors will need to look the part. Your wardrobe costs may not be too high if your ensemble requirements are pretty basic. And if that's the case, you could just use the outfits your actors already have and make it work.
Most of the time, it isn't that simple though, and the wardrobe cost for a live-action video needs to be factored in.
Interested in making an amazing app video? Click here and find out more.
Production
Lights, camera, action! This is where the actual filming happens. And it can't happen without the following:
Film crew
The film crew includes the director of photography, producers, sound technicians, lighting technicians, makeup artists, costume designers, caterers and more.
Each video has different crew requirements and costs will vary according to the number of people you'll need onboard.
Trying to shave off costs when it comes to the film crew may not be the best idea. And not having the right people for the right tasks may just leave you with very disappointing results.
Equipment
Cameras, lenses, sound equipment, teleprompters, lights, dollies, etc. all need to be accounted for. The production agency may rent the equipment or own it already… either way, someone has to pay for it all.
Also check out: Video Content Creation VS Video Promotion: Where Should You Invest?
Post-production
The final step of the production process is also referred to as 'Post'. It includes cutting, organizing, editing, and color-correcting the footage obtained.
This is the process where all the chaos is transformed into a harmonious product. The video is edited to make it stand out and all the finishing touches are added.
The most important steps in post-production include:
Editing
Finding the right footage from various cuts and takes; putting them all seamlessly together using professional software takes time and patience.
If there are a lot of cuts, retakes, and a ton of raw footage to go through, the process can be time-consuming and taxing.
Artful edits require expertise, which isn't cheap.
Coloring
A colorist allows you to achieve the right mood and perfect visual aesthetic for your final video product.
The picture-perfect look takes time to achieve. Hiring a good colorist can make a world of a difference.
Graphics
The video you want may require some graphics, such as an animated logo, colorful accents, etc.
These should also be accounted for in your overall budget. So, now that you know about the production process in more detail, you may be able to understand the costs associated with live-action videos and how they can add up.
You're still going to need to do some research to calculate an accurate estimate of how much you might have to pay.
Choose a production house whose work aligns aesthetically with what you have in mind for your own project. After that, reach out to them and have a discussion.
Professionals have the ability to capture your story on video in a compelling way.
You're paying for satisfaction and results that will be above and beyond your expectations.
If you'd like to make explainer videos that convert, check out our previous post here. And if you want to connect with an agency to create a video for your business, then contact us.
Want a video for your business?