You may associate the word animation to cartoons, but the truth is that you can also tell profound and complex stories with this art form as well.
Animated videos can be great for businesses that are looking to connect with their audience; expand their growth, and increase their influence in a creative way.
The possibilities with animation are endless.
What is animation?
Credits: Giphy
Animation involves drawing; designing, and preparing photographic sequences.
The elements, which can either be hand-drawn or generated using various software and computer tools, are then integrated into multimedia.
What are animated videos?
Animated videos use various animation types/styles to convey a message or tell a story.
Sound often plays an important part in this medium as well—in the form of background music, sound effects, and voiceovers.
Animation is also popular when it comes to creating short and engaging explainer videos (more on that here).
Apart from videos, animation is also used to make GIFs and interactive websites.
How can the best animated video benefit your business?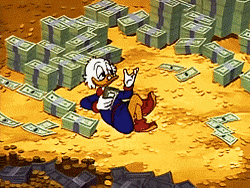 Credits: Giphy
According to Unbounce, animated explainer videos show a 20% increase in conversion rates.
Quality animated videos are a great way for businesses to grab the audience's attention.
Whatever your goal may be—engagement, increasing conversions, explaining a product or service, special announcements or pitching an idea—you'll find that animated videos work really well for a variety of objectives.
1. The best animated videos can help you stand out from your competitors

Credits: Giphy
In the digital age, where video content stands as the undisputed champ, it would be detrimental to not incorporate videos into your digital marketing strategy.
A great animated video can help you stand out from your competition.
2. The best animated video lets you engage with your customers
According to Oberlo, 85% of internet users in the United States watch videos monthly and 54% demand more video content from their favorite brands or companies that they follow.
Various sources have noted that video content is highly popular with audiences nowadays.
Research shows that 50 to 80% of the human brain is dedicated to visual processing and that's why videos have the potential of garnering high levels of engagement.
If your main intention is to increase sales, then engaging content will definitely help you get there.
3. The best animated video improves SEO
If you want your business to gain popularity in the digital space, then animated videos will help improve your online presence.
Incorporate animated videos on your website and landing pages to improve SEO. Doing this will increase your ranking on Google search, which will allow potential clients to discover you.
Now that you know how useful animated videos can be, all you have to do is find the best animated video type, or perhaps a combination of various styles, for your particular needs and then just go with it.
Read more: Why Are Video Landing Pages Better Than Traditional Ones?
Types of animated videos
Now that you know how useful animated videos can be for businesses, you might be wondering which type or style you should go with. There are several options to choose from. Have a look below.
Motion graphics involve relatively simple elements that move and animate.
2D motion graphics are great for demos, tech animations, short videos, etc.
2. 2D Character Animation
Animated videos of this type are set in a 2-dimensional environment with the addition of animated characters that can move up, down, left, and right.
Adobe Photoshop, After Effects, Flash, etc. are some of the software used to create this type of video content.
3. 3D Animation
3D-animation videos take place in a 3-dimensional space. They can move along the x, y, and z-axis.
This type of animation is particularly popular in platform games and virtual reality. If used properly, they can elevate the visuals.
This Virgin Atlantic flight safety video uses 2D and 3D animation in a very creative way.
4. Whiteboard Animation
For whiteboard animation, the drawings are hand-drawn on a whiteboard or on a similar surface. This style of animation can also be emulated using special software and digital illustrations.
These videos are normally supported with narration.
Whiteboard animations are increasingly popular on YouTube and are a great way to get ideas and messages across to viewers. This medium is also great for storytelling, which is why 'Draw My Life' videos are so popular online.
5. Stop Motion Animation
Stop motion animation brings static objects to life. The objects are moved in small increments and filmed after each increment.
The frames are then played in sequence and show movement.
Stop motion uses miniatures, clay figures, puppets, etc. because they can be repositioned and set-up easily.
Computer-generated imagery has pushed stop motion animation from the spotlight but it hasn't disappeared.
This style of animation has become a niche and is still popular in commercials, artistic films, and shorts because of its unique aesthetic appeal.
This John Lewis Christmas ad combines stop-motion and traditional hand-drawn 2D animation beautifully.
6. Kinetic Typography
Kinetic typography combines text and movement. Ideas are expressed using text in a dynamic way.
Credits: Atanas Giew
7. Infographic
An infographic is an informative video with graphic animation that presents information in an easy-to-understand and appealing way.
Infographic videos offer a lot of value and allow viewers to improve their understanding of a subject in a very short period of time.
8. Isometric
Isometric animation uses angles that are not necessarily oriented isometric but give a 3-dimensional effect.
9. Cutout Animation
Cutout animation is sort of like stop motion but it uses flat characters or cutouts.
The characters are made up of materials such as paper, stiff fabric, etc. This style of animation can also be emulated using software.
10. Traditional Animation
Traditional animation, also known as hand-drawn or classical animation, is where each frame is drawn by hand. This was the most dominant form of animation until the advent of computers.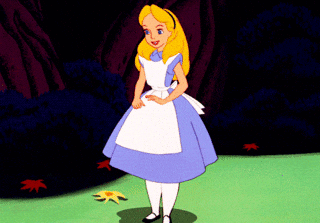 Credits: Giphy
Now that you know the various types of animated videos and how great they are for business, how will you take advantage of this creative medium?
Let us know your thoughts in the comments.
If you're thinking about having an animated video made for your business, then check out the services we offer and feel free to reach out to us if you have any questions.